Our Mission, Our Vision and Our Philosophy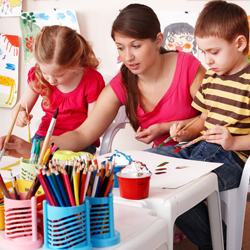 About Big Dreams
History
Montessori education is an emphasis on independence, freedom within limits, and respect for a child's natural psychological, physical, and social development.Children from a variety of cultures and backgrounds all over the world have benefited from Montessori education. Your child will as well.
The Montessori teacher is interested in the child's developmental readiness to respond to the sensory stimulation of the Montessori environment.
Dr. Maria Montessori Model / The Parent Educator
Maria Montessori believed strongly that parents play a critical role in their child's education. Education begins with the parent's in the home, at birth. The parent is the child's first and most influential teacher.
As a parent you have a unique opportunity to lead your child into areas of interest and activity that are meaningful and fulfilling to both of you: hobbies, intellectual pursuits, spiritual values, cultural and environmental appreciation. You, as the primary teacher, are the most significant influence on your young child's absorbent mind. The Montessori school is the natural extension of your home.
Meet Our Team
It is the Centre's policy to hire Early Childhood Educators (ECEs) who are registered with the College of Early Childhood Educators of Ontario. The teaching staff is led by a Supervisor who is a member in good standing of the College of Early Childhood Educators with adequate experience and who is able to plan and deliver play based learning and care programs. (Early Childhood Educators Act,2007)
We ensure that all the teaching staff should be a member in good standing of the College of Early Childhood Educators with adequate experience. A committee comprising of the Directors and the Supervisor conducts all permanent hiring.
Big Dreams Centre ensures that all the staff has a valid Vulnerable Sector Police Check, a valid Fist Aid (including Infant and Child CPR) certificate and are adequately vaccinated.
Happy Parents
I wanted my daughter to be in a Montessori that felt like home. The staff at Big Dreams has made this possible. They have created an environment for her that is not only safe, but educationally stimulating as well.
Before enrolling my child into this centre, I was nervous as it would be the first time my son would be away from me. The staff at Big Dreams worked with me and ensured that we had a smooth transition. They have gone above and beyond with my child and I am impressed with the programs they have in place.
The first time I walked into Big Dreams I was impressed with the setup of the Montessori. It is obvious that the staff has put much time and care into creating a centre that is warm and welcoming. I was greeted with smiles and I knew this would be the perfect Montessori for my child
Big Dreams Montessori is a great place for my daughter to start her school experience. Not only they have positive and loving staff, but also the place is very safe and welcoming. My daughter looks forward to going to BD Montessori every day.
Ask a Question
If you do not find the answer for your question, you can ask us by submitting it using form below:
Other locations
Early Years Education System (EYES)
Market Lane Early Learning Centre
Abacus Daycare Centre
20, Chichester Pl
Scarborough, Toronto
ON M1T 1G6
Phone (416) 497 1474